Miter Gate Manufacturing | Buffalo, NY
Projects involving water control require the participation of highly qualified companies supplying high-quality water control equipment and design and manufacturing services. Linita Design & Manufacturing, a company that excels in design, engineering, manufacturing, and site supervision, is currently in the industry's driver's seat specializing in miter gate manufacturing.
The Importance of Miter Gates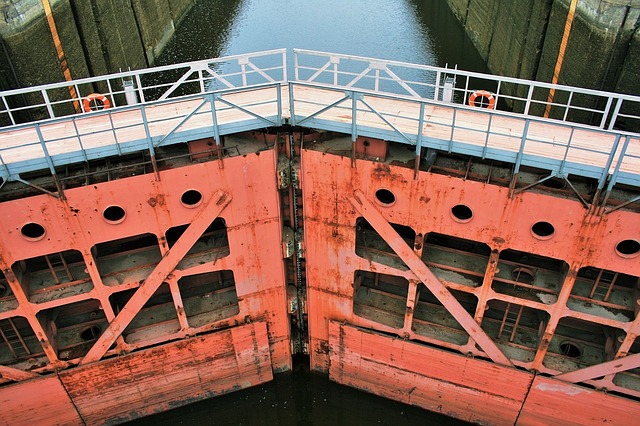 There are several names for the miter gate, including canal lock and lock gates. These are put at the entrance and exit of the lock to keep water from escaping while still letting boats pass through. When closed, these gates form a "V," with the upstream end pointing toward the lock wall and the other end meeting at the lock's center. The gates seal against a miter sill on the lock level when closed. The water pressure between the two gates forms a "V" that transfers through the gate to the hinge, pushing the gate into the lock wall.
These gates allow the water level in the lock to be adjusted up or down as necessary. Today, they continue to be used in rivers or canals, such as the Panama Canal and Buffalo, NY's famous Erie Canal.
Leonardo da Vinci is said to have created the miter gate, replacing the early vertical lift gate. He installed it in the San Marco Lock in Milan, Italy, to allow the Martesana Canal and the Naviglio Grande to connect despite being on different levels.
Linita: The Industry Leader
Trust the Linita Design & Manufacturing professionals to provide you with water control equipment, miter gates, hoists, and trash rack cleaners. In addition to the products we offer, our services include, but are not limited to:
Engineering and producing high-quality, one-of-a-kind fabrications, Linita Design and Manufacturing in Buffalo, NY, has been in operation for over 35 years. In heavy design and fabrication, we have vast expertise and unparalleled knowledge. Heavy weldments are our forte, yet our scope of services is practically limitless. We can meet and overcome new obstacles daily thanks to our extensive background in different industries, such as large machine gear fabrication, presses, mining equipment, etc.
Request a Quote From Linita Design & Manufacturing
If you are looking for a trusted company In Buffalo, NY, to handle your miter gate project's needs, Linita Design & Manufacturing is it. Contact us today for more information or request a quote on your miter gate project and beyond. We look forward to working with you!