Wire Rope Hoist Manufacturing in Buffalo, NY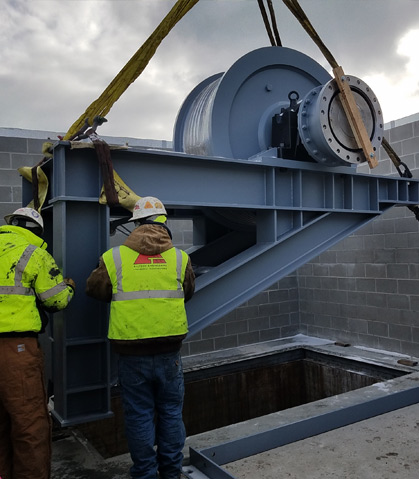 Wire rope hoists are widely used in areas where heavy duty lifting is required, such as foundries, factories, and industrial facilities. These electrically driven hoists are comparable to regular standard electric hoists, which use steel chains to raise varied quantities of weight. This equipment is utilized in several factories. However, because wire ropes have greater SWLs (safe working loads), they are typically more suitable for lifting heavy items compoared to ordinary chain hoists, which is why they are gaining popularity in the industrial sector today. If you're in need of custom wire rope hoist manufacturing in the Buffalo area, trust the experts at Linita.
Advantages of Wire Rope Hoists
Adaptability for heavy duty lifting— Wire rope hoists can raise significantly larger loads compared to other hoists since wire rope is manufactured with several wires, therefore distributing the weight of a load across numerous pieces of strong metal. Some rope hoist systems can raise an astounding 90,000kg, whereas chain hoists are only able to carry up to about 30,000kg. This makes them far more appropriate for sectors that regularly involve heavy lifting.
Safety— This equipment's safety is another significant advantage. Because there are several wires and strands, even if one breaks, some will remain intact to support a load while it is dropped safely.
High resistance— Due to the lifting medium's excellent resilience to corrosion, rust, and abrasion, it is unlikely to spoil. There is also the option to purchase galvanized rope, which has an even greater resistance to these damaging factors.
A range of options to choose from— There are many various rope hoist systems available today, so there is something to suit everyone's lifting and lowering requirements.
Contact Linita Design and Manufactring FOr Wire Rope Hoist Design in Buffalo
Wire rope hoists are a popular alternative to typical standard electric hoists in the industrial sector, where they provide a number of advantages. In addition, the availability of a variety of hoists guarantees that you may choose one that meets your lifting and lowering requirements. We hope the above post was useful in understanding what wire rope hoists are, as well as the variety of benefits they provide. However, if you want to learn more about lifting hoists, please contact our staff now. We are always pleased to answer any queries you may have.